Mon, 28 Jun 2021
Family Time at Tau
A welcome opportunity to teach your kids about conservation and the wild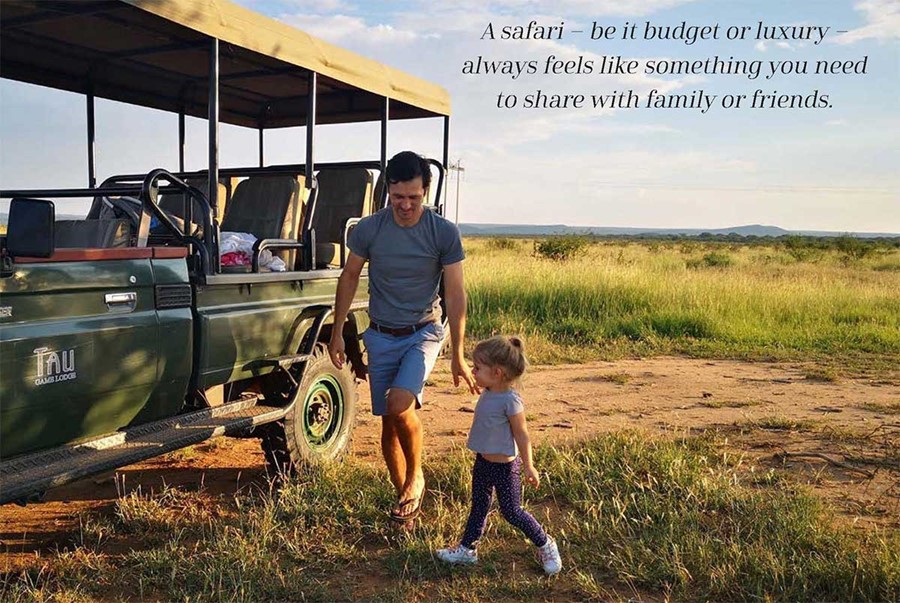 Today, teaching children the fundamentals of conserving the environment from a young age is something that has almost become non-negotiable.
Learning about the environment, nature and the wild should be part of growing up. Luckily, in south africa there are numerous opportunities for that, and tau game lodge is a good place to start.
TAU Game Lodge is located in one of South Africa's lesser known, yet very popular reserves, Madikwe Game Reserve.
Located on the border of Botswana, Madikwe Game Reserve is currently the fifth largest game reserve in South Africa and in addition to its spectacular wildlife population, it also boasts the dramatic ridge of the Dwarsberg Mountains with exposed red rocks of up to 2630 years old. As one of the best conservation areas in Africa, Madikwe Game Reserve is also a popular Malaria-free destination with 680km2 worth of land; a healthy habitat for the Big 5.
A visit to TAU Game Lodge - the place of the lion - gives families the opportunity to immerse themselves in nature. With the lodge's rooms bordering one of Madikwe's popular waterholes, guests can watch elephants, zebras, waterbuck, warthogs, lone buffalo, ducks, geese and even crocodiles come and go from the comfort of their rooms' decks.
EN ROUTE
Travelling light with kids is almost impossible. Certain things always need to go with - a stroller, a camping cot, each child's special blanket and a soft toy, books and things that will keep them busy in the car, snacks, you name it.
Luckily, TAU Game Lodge provided a camping cot, so we could take that off the packing list. We also left the stroller, only to realise that we'll be bringing it along next time.
A visit to TAU Game Lodge is a manageable weekend breakaway with kids. A long weekend would be ideal, but if need be, arriving late on a Friday and checking out on Sunday is still doable. The road to TAU is an experience of its own and if you have the time, some small town exploring should be part of your itinerary. Swartruggens is a good halfway stop when driving from Johannesburg or Pretoria, with The Grove and Wimpy Restaurants as two reasonable breakfast or lunch options.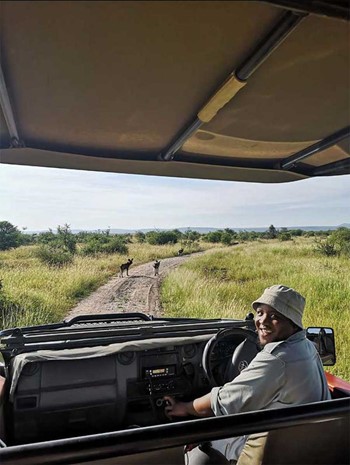 Tip: Before you drive through town, be sure to check out the picturesque Dutch Reform Church on your left, dating back to 1922.
Just past Zeerust, you will come across donkeys, cows and boerbok crossing the road and every now and again you'll spot a picture you wish you could capture: A young boy playing with his Afrikana dog; an elderly man sitting on the steps in front of his blue front door. These are typical African scenes to be seen en route to TAU Game Lodge, so be sure to keep the camera close by.
A WARM WELCOME
TAU Game Lodge (like many others in the industry) has not had it easy the last couple of months due to the brutal COVID-19 lockdown restrictions and just seeing the staff's faces light up at the sight of weekend visitors brought tears to my eyes.
Corona's unsympathetic(but necessary) sanitising and temperature stations were seamlessly dealt with and made way for friendly smiles, warm welcomes and delicious, cold lemonade (even for the kids).
A quick COVID-form had to be completed on arrival and we were asked to decide on lunch as we were luckily just in time. The kids were happy to be out of the car (the drive was relatively easy, but it still is a four-and-a-half-hour drive) and lunch overlooking the waterhole was pure bliss.
Our ranger, Silas was part of the welcoming committee and he was clearly excited to show us what the reserve had to offer. We therefore agreed to be ready for a game drive at four and as it was the children's first proper luxury safari, they had no idea what to expect (and neither did we). After a three-hour afternoon drive with lion-, elephant- and baby jackal sightings (to name a few), we were surprised with a beautifully turned town room, complete with customized water bottles as welcome gifts on our beds. The children each also got their own welcome letters from the Cubs Club - a memorable, special touch.
LUXURY SAFARIS AND KIDS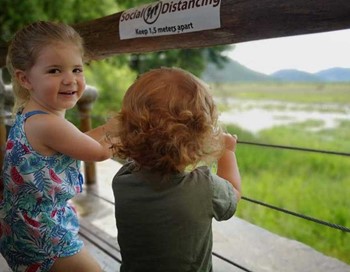 A safari - be it budget or luxury - always feels like something you need to share with family or friends. Since we've grown into a family of four, we really wanted to see what it would be like to do a luxury safari with the kids and TAU Game Lodge certainly did not disappoint. From the cute, customized Cubs Club water bottle that our 3-year-old was gifted with, to the beautiful watermelon and fruit salad cake for the kids' birthdays, coupled with a special Happy Birthday song, sung in both English and Setswana. We felt like part of the family at TAU - a family within a family - and it was wonderful. For me, that is what tourism and hospitality is all about. Apart from teaching our children about conservation and the wild, making people feel at home is another quality TAU undoubtedly helped us instil in our kids.
With most luxury safari lodges, kids under six are not allowed on game drives, unless it is part of the kiddies' programme like TAU Game Lodge's Cubs Club.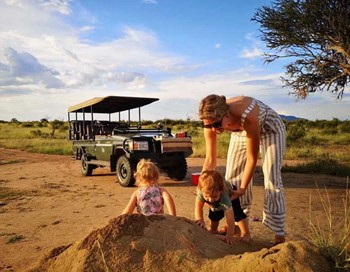 They normally do post-breakfast drives, shorter drives customized for children. During our visit at TAU, we were lucky to have our own dedicated game ranger and vehicle, which meant that our kids could go on both the morning and afternoon drives with us. Under normal circumstances, chances are that you would have to pay for a dedicated ranger and game vehicle for your family, should you wish for the kids to tag along on the morning and afternoon drives.
The morning and afternoon drives at TAU are at least three hours long and we were surprised at how well the children managed. When they got tired, they fell asleep on our laps and although the safari life's routine is much different to the routine at home, the fresh air was exactly what we all needed. The bonus of having your own dedicated game ranger and vehicle, is that the ranger can tailor the trip to your family's needs. Silas really made an effort to show the children all kinds of things - from a small tortoise beside the road, to a frog's foam nest in a bush next to a small mud pool.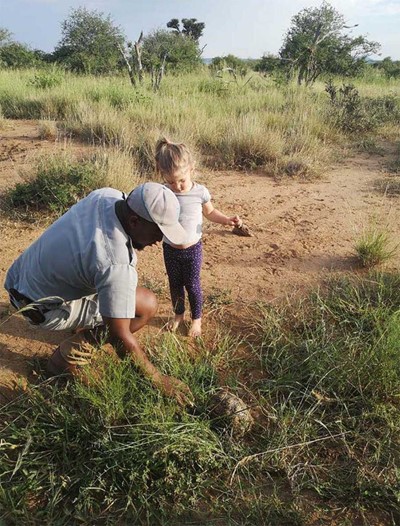 One morning, a group of at least fifty elephants shared a waterhole with a few ducks, who calmly found their way between trunks, tails and tusks. The ellies made it their playground by going under water, dunking and splashing their trunks, flapping their floppy ears and rolling in the mud. We watched them for at least twenty minutes and the children were dumbstruck. That afternoon, two male lions escorted us on the game drive, walking beside the vehicle as if they were the guides.
The kids just wanted to touch them, and we had to explain (more than once) that they are wild animals and that we shouldn't touch wild animals. Toward the end of our stay at TAU, the kids had a good understanding of the difference between wild and tame.
We also saw wild dogs and cheetah and the birdlife was surprisingly abundant. At the swimming pool, located next to the waterhole and hidden away between tall grass and trees, we chased colourful dragonflies and on the footpath on our way to breakfast on the deck (also overlooking the waterhole) we could hear all kinds of birds chirping in the trees. Every minute of our stay at TAU was filled with adventure for our kids.
THE VERDICT
We have recently learnt that you don't necessarily return well-rested when you travel with kids. Emotionally, perhaps, but not physically. That is why a luxury safari - for us - is one of the best things we could have done. There was no need to worry about breakfast, lunch or dinner. No need to plan ahead. No need to think of to plan ahead. No need to think of ways to keep the children busy. We could just pitch up for breakfast, go for a swim, take an afternoon nap (when the kids allowed), pitch for afternoon tea, hop on the game vehicle, enjoy (non-alcoholic) sundowners among Acacias, pitch sundowners among Acacias, pitch up for dinner and listen to the sounds of the bush.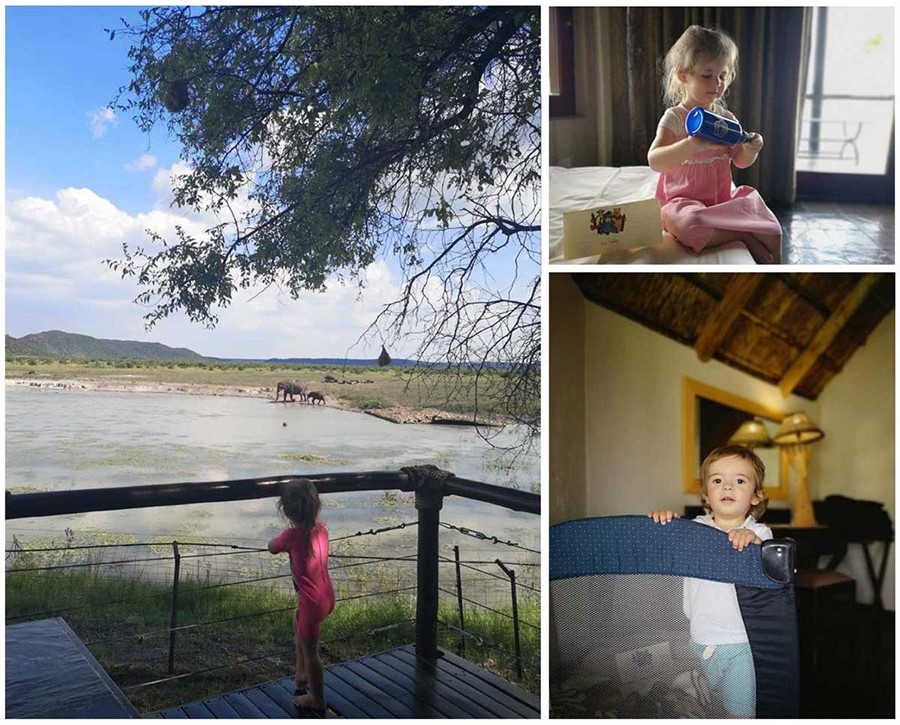 Exploring nature with children is a priceless learn school for both parties. Inquisitive minds are the minds of tomorrow. With conservation being such a hot topic worldwide, taking your child on safari is not just holiday anymore. It has become an obligation to teach our children about nature and the wild. TAU Game Lodge taught me that much.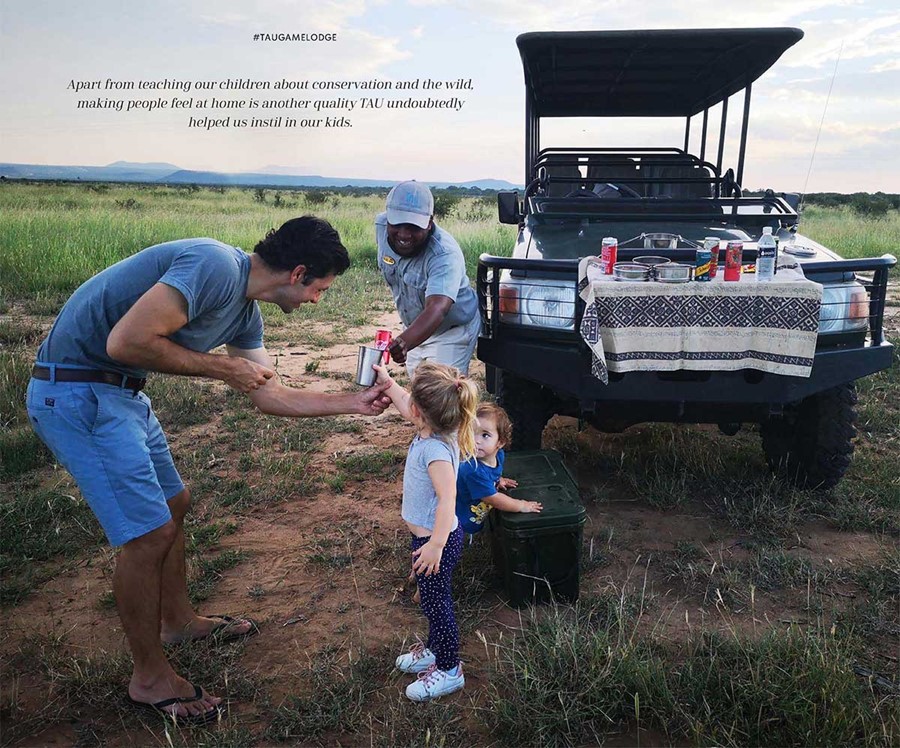 KEEPING KIDS BUSY IN THE CAR
• Sing songs together (we even packed the odd rattle for some added sound).
• Play games like: "Which colours do you see outside?"
• Let the kids tell jokes to each other.
• Have snacks ready for moments where you can't think of anything else.
• Have the kids pack their favourite books and three of their favourite toys that are easy to play with in the car.
• Don't pack noisy toys (for your own sanity).
• Don't pack toys with too many small parts.
• Try to stop regularly. From Pretoria, you'll pass Rustenburg, Swartruggens and Zeerust - all good spots for a quick stop.