Thu, 01 Oct 2020
PEACE OF MIND AT TAU
As we all continue facing the challenges brought on by Covid-19, Tau Game Lodge is preparing for the moment when domestic travel will be possible again.
The global Covid-19 pandemic has impacted the world in a way that has seen many of us rethink our ways of working and living.
To safeguard the well-being of all its guests and staff, Tau Game Lodge is adopting additional health and hygiene measures, giving our visitors complete peace of mind about their future stay while providing them with an exceptionally comfortable, exciting and memorable experience.

NEW MEASURES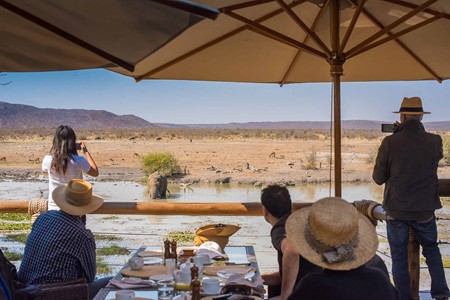 Due to its size, we don't expect Tau Game Lodge to be operating at full capacity in the short term. This will, however, allow for the extra space available across our variety of different venues to be utilised applying the current social distancing rules. We will also be able to alternate the use of each room and deep clean rooms meticulously before each new arrival.
In order to practise sensible social distancing during game drives, we will allow for a maximum of six people per vehicle, with the option to request a private vehicle at an additional fee.
Our delicious and healthy meals will be served à la carte and tables will be spaced apart at an appropriate distance.
Tau is perfectly suitable as a medium-sized meeting venue for 20 or 30 delegates with single occupancy as well. Corporates who have had to work non-stop, yet remotely, during these past months could be in dire need of a well-deserved breather in nature to discuss the way forward, once the situation stabilises.
ONGOING SUPPORT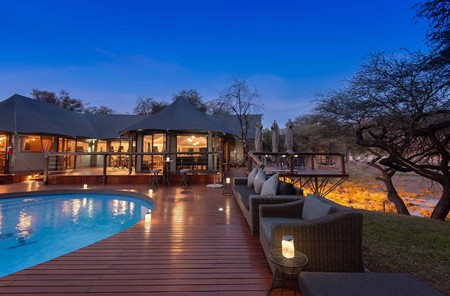 In line with Tau's community programme and the Tau Foundation, we endeavour to maintain our staff levels in order to support the local Supingstad communities during these uncertain times, while the reserve has been on lockdown and staff had to be sent home.
Tau and all staff members are looking forward to the time that we can re-open our doors and welcome guests back into our home again!
SPECIALS
We are aware of many people who had travel plans for milestone birthdays and other family celebrations, but sadly were unable to travel due to the current circumstances. Therefore, we are encouraging our guests to decide on a future trip and to take advantage of the various discounted Pay Now & Travel Later flexi vouchers we are offering, available for both individual travellers as well as for corporate groups.
Dates are flexible, as we do understand that travel restrictions are being updated constantly. This will ensure peace of mind and an amazing experience to look forward to.
NATURE IN YOUR LIVING ROOM
Much to the delight of avid worldwide followers of the wildlife activity at the iconic Tau waterhole in front of the lodge, our live camera has provided many people around the globe with exciting daily viewing during the lockdown period, serving as a reminder that the natural world just carries on. Many have noted that viewing the large herds of elephants and buffalo, crocodile and even wild dog and cheetah – all on our live camera while sitting in their living room – made them cope better with the situation while being cooped up at home.
Similar sightings will once again mesmerise our visiting guests when Madikwe has opened its gates again, when guests can enjoy dining with a panoramic view of the large waterhole. In the heat of the day, animals, just like humans, have to quench their thirst, while all you have to do is dine on delicious food, sip your favourite midday cocktail, and watch the shifting pecking order at the waterhole.
The highly addictive live webcam will keep you mesmerised on taugamelodge.co.za/main-lodge/live-webcam.
TAU IN 25 YEARS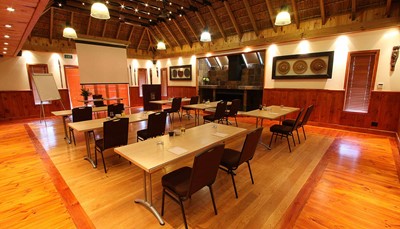 Tau Game Lodge opened its doors in 1995 and offers 30 room options, ranging from standard to luxury and family suites.
The Tau team ensures your safari needs are met with warm, efficient, five-star safari service. For 25 years, Tau Game Lodge has enthralled visitors from every corner of the globe, including honeymooners, conference guests, families and groups of friends who simply want the best a safari experience could possibly offer. The lodge is enclosed within the Madikwe reserve, resulting in the humans being subtly fenced in, while game roam free.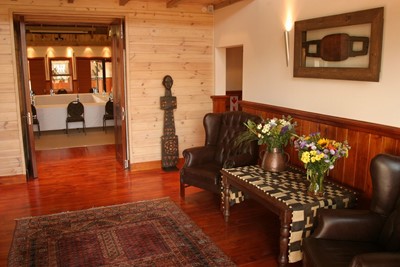 Familiar with the habits and quirks of every species of game and bird spotted along the way, the rangers share their own knowledge and stories, which makes for memorable conversations under the stars around a campfire, as well as in the modern out-of-Africa ambience of Tau's indoor dining areas.
The Tau Cubz Club, Tau Spa Oasis and Tau Conference Centre make this an ideal malaria-free destination for romantic, family, leisure or corporate safaris. The two lodge swimming pools, of which one is an infinity pool, also offer vistas of the bush and waterhole.