Wed, 26 Apr 2017
There's dust in the air - By Mike Rae
There's dust in the air...
April brings about a certain dryness that starts to linger like a bad taste in your mouth as the nights get longer and colder. This last wet season brought about double our annual average rainfall and nature's response to this has been an epic transformation, almost performance like, as if Mother Nature herself is showing us what she is capable of. Intense light shows of colour as the sun pours its rays onto the dramatic and ancient landscape we call home.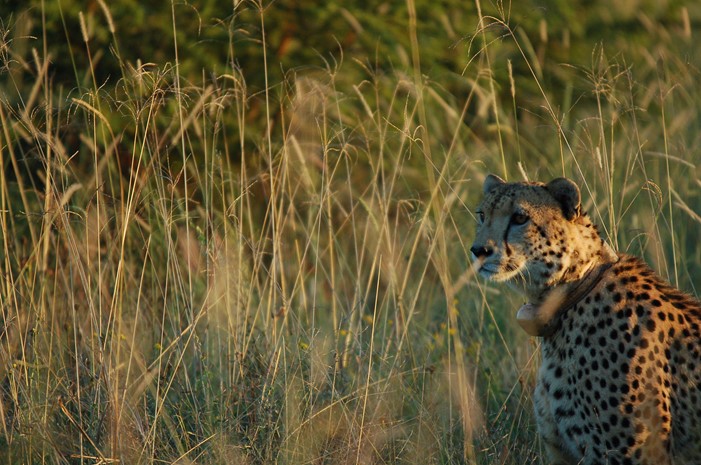 This six week work cycle has been an incredible time for me at Tau as some may know, Dylan Smith and Murray Hay have moved on to their next adventures at other lodges. I'm slowly but surely learning my new role as Head Ranger. Our team has been very supportive and positive about the change; I value every minute working with this powerful, productive team. We are all very excited to have welcomed Stephanie and Kyle to our Rangers team; they have both had a chaotic start but have handled the deep end like absolute champions. Their knowledge and personalities have been a refreshing addition to our Tau team.
This autumn period in Madikwe has been incredibly thrilling! One night, on my way home from drive with a lovely American group I was fortunate enough to come across our two young resident lionesses hunting a herd of zebra. I first noticed very nervous zebra trotting across the road maybe 200 yards from my vehicle, I swung the spot light right, in the direction they were running from, and picked up two sets of eyes moving low through the grass, I then knew something was about to go down.
The two lionesses moved straight towards us as the zebra had run around the other side of the vehicle, basically using the vehicle as cover. At this point I stopped the cruiser and the older lioness bolted across the road behind the vehicle chasing a mare and foal. The mare turned and led the foal back across the road in front of us. The larger lioness caught and sunk her claws into the foal and took it down. At this point I was right behind the lioness and put my light on the action once the chase was over. It all happened very quickly, the lioness was on the zebra foal for no more than 3-5 seconds. Out of no-where the mare burst into the ring of light attacking the lioness and saving her foal, the lioness in this insane moment then gripped onto the large mare. The lioness immediately began to bite at her snout and throat looking for a good grip to suffocate it, while the Matsumi female did what she could to tire out the strong mare. It was a painstaking 30 minutes struggle for survival between predator and prey. The older lioness has two cubs and is also supporting her younger sister the Matsumi female. The Matsumi was one of the cubs I was lucky enough to find, I wrote about her in the August 2015 blog. Great to see young lionesses that have captured my passionate attention for the last 3 years finally pulling down big game and raising cubs of their own.
Ernie also witnessed an amazing kill this month. Another of our resident lionesses, the much older and larger Bolokega female, managed to take down a very large kudu bull on her own. Ernie also picked up on the nervous behavior of the prey species first, took his time in the area and his patience paid off. Unfortunately I was not on drive that morning but according to Ernie's guests it was an astounding hunt to witness as it is very rare for a single lioness to take down an animal of that size.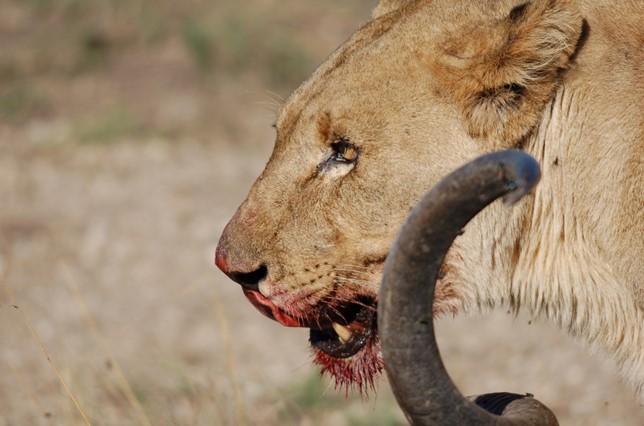 There is so much to take in when on safari, it is often hard to realize how much you miss around every corner. Apart from the lion kills a few of our guides, myself included, also saw cheetah chases and kills, Kyle was on the scene to witness the successful hunt by our Pinda Cheetah coalition, well done Kyle!!
To every one reading this, stop wasting time, action is happening out here this very second, hurry to book your stay with us at Tau and let our guides blow you away!