Thu, 15 Sep 2016
August / September Blog
Green winter
After Madikwe was drenched in floods earlier this year it almost feels like I've been guiding in a different place. This winter has been lush and pleasant in the bush, the animals have received enough green feed through the winter and are all still looking energetic with their shining coats. Nature's true unpredictability has really been obvious here over the last two years, from paradise green to a sea of dust, raging veld fires to dam bursting floods. I feel extremely fortunate to witness and experience such interesting weather changes in the Marico area. Along with our green winter came so many unbelievable sightings that left us craving and at times pulsing with adrenaline.
I had a spectacular sighting of our Cheetah coalition in mid- August that left my guests in awe. I had positioned my vehicle near to a large dead tree and to my surprise each cheetah male took their turn to mark and climb onto the tree trunk about a meter away from my door. Having these Majestic spotted cats both pose above eye level for me and my guests is probably going to be one of my most memorable cheetah sightings ever. Claus Rettig and his family were on my vehicle at the time and managed to get amazing footage, well done Claus and thanks again! Winter in Madikwe can be very productive game viewing wise. We had several good leopard sightings which are rather an uncommon event as well as many caracal, serval, brown hyena, wildcat and rather amazing wild dog sightings.
With the great diversity of predators in this splendid corner of the North West, you are bound to be blown away by endless excitement. Hope to see you soon for more adventure.
……………Ranger Mike Rae……………………….
A Leopard in August
August produced many spectacular Leopard sightings despite the thick green cover. One of the many sightings we had was of a beautiful leopardess in the Southern section of the park. The elusive cat was lying in a large African Wattle Tree surrounded by the trees bloom of small flowers, next to her in the top of the canopy hung a half eaten impala . I was lucky enough to share this amazing experience with the Gilbert family from Canada. Although Leopards are normally very elusive and nervous in nature, this particular female was undisturbed by our presence giving us the rare opportunity for close up photography on this beautiful specimen. It adds a certain flare to a sighting when you are surrounded by rolling dolomite hills and green Marula tress.
Madikwe has a vast range of fauna and flora giving guests the opportunity to gaze upon a convergence of wildlife rarely seen elsewhere. Come to Tau and experience it for yourself …..
……………. Ranger Derek McBride …………..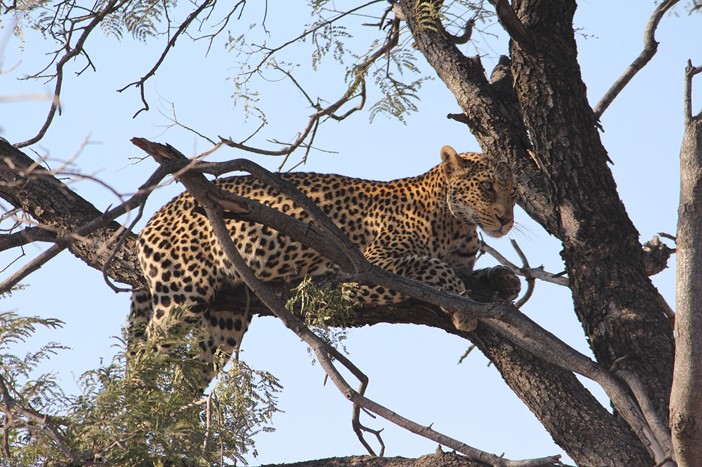 An owl among the spots
After an already amazing morning we were called into a serval sighting, the serval was a very relaxed female. The ranger that found the animal mentioned that it was carrying a meal in its jaws. After a while in the sighting we discover that it was a Grass Owl, it is rare enough to see a serval let alone with a rare owl as its meal. This amazing sighting was a first for most of the rangers that managed to see it. As it was carrying its meal along it finally found a comfortable spot and started to devour its meal, as it was plucking the feathers it stopped and looked at the vehicle and then started grooming itself.
A fantastic drive was had by all that morning, it just shows us that are here in the bush how privileged we are to work in such beautiful wilderness areas. We would love you to join us at Tau Game Lodge to share the amazing sights that make up Madikwe.
………….. Ranger Marc Grové……………