Wed, 03 Feb 2016
Drops of Summer - January News - by Mike Rae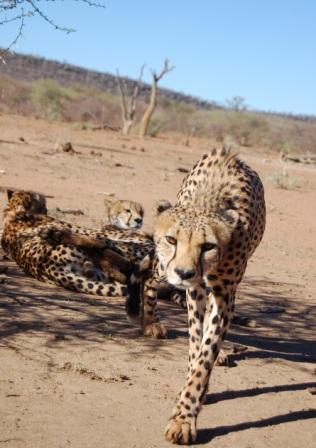 The beginning of a new year arrives with much excitement and new life in Madikwe Game reserve, offspring of every species brings about a fresh atmosphere in the field. In camp, the acacias burst with colour and our beautiful Tau Game Lodge seems to oose a bright yellow into seemingly green surroundings. The rainfall has arrived late but is always welcomed with open arms and smiles facing the clouds. The dams and drainage lines are buzzing with life as water birds, frogs and insects seem to applaud and rejoice the drops of summer. Ground Hibiscus flowers open like fireworks displaying their gentle pink pettles. This is a season when being out in nature energizes you, awakens your primitive instinctual senses and blows your back, and I'm not meaning the wind on the open vehicle.
There is just so much to see, so much wonder and mystery in every nook and cranny. I recently had the pleasure of guiding a young newlywed couple from Sydney for three nights and on the last afternoon drive David and Nicole noticed something very interesting growing out of a termite mound. I stopped the vehicle and we went for a closer inspection. It turns out we had come across Paracol mushrooms just emerging from within a termite mound, while discussing our findings a couple green wood hoopoes landed in the tree above us, I quickly whipped out the popular Roberts bird app and played their call. The young couple were astounded at the reaction of the Hoopoes as they rhythmically tossed their tails back and forth and responded in their loud cackling call. I often feel overwhelmed by the endless amount of life all around us and every three hour game drive feels like ten minutes.
With many mixed emotions our cheetah coalition of four males has recently made way for another four males split into two coalitions. The first two males have been released and are habituating well to the vehicles and giving us great sightings. The second two males have arrived but are still in the habituation enclosure in the south of the reserve, release dates have not been confirmed. Two females will also be brought in to the reserve in the near future, this means a possible five different cheetah sightings on drive. The loss of our coalition of four definitely pulled our heart strings but the possibility of cubs in the future tips the balance and adds much excitement to the project. So a heartfelt goodbye to the four spectacular cats that brought many unbelievable sighting on drive and on foot. Such a magnificent animal! The memory of four of these vulnerable predators lying in the shade of my vehicle canopy will linger in my thoughts for years to come.
Let us amaze and intrigue you with natures absolute splendour around every corner. Join us in our arid paradise for wildlife adventures that will capture your soul and demand your return. We're ready and waiting… for you!