Sat, 03 Oct 2015
The sweet scent of spring in the air - by Michael Rae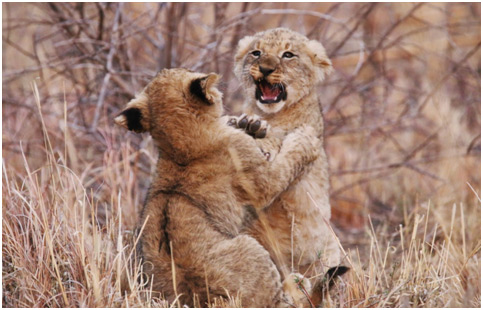 Upon my arrival back to Madikwe, back from a two week break, I felt my heart beating to a new rhythm, the cold had retreated and the fresh smell of the shepherd tree blossoms filled my breaths. The first signs of spring have arrived in our arid piece of Africa.
A glorious time for our veld approaches, as the suns light grows warmer and starts to draw sweat from our skin. So far the heavens have opened to gift us a mere twenty odd mils of rain which has settled dust and restored some colour to the dead ground. This is an incredible time in Southern Africa and even though I've been witness to this amazing change of season many times, it's always eagerly awaited and leaves to soon.
Although not much life has fallen from the clouds, you can already sense a new energy in nature. The trees and brush buzz with busy flutter and romantic song as birds prepare for courtship. Strange and wonderful little arthropods emerge from nowhere to play part in this beautiful transformation. This is a time of warmth and colour in the African bushveld, a time where life begins again.
Rain is around the corner, I can feel it, we all can. All I hope is that we receive enough later into the season to help us through the next winter. I came across a wonderful poem not long ago, written by Wayne Visser, which perfectly describes characteristics of Africa including our amazing thunderstorms.
"I know a place in Africa
Where I can hear the voice of thunder gods
And watch their lightening spears thrown to earth
Where I can breathe the scent of rain clouds
And taste the sweet dew of dusty drops"
I recommend reading the whole poem and you can find it on his website, it's called 'I know a place in Africa'.
In the last two weeks we are proud to say we have had two sightings of our new lion cubs and we estimate their age to be about 10 or 11 weeks old. These cubs have brought a new light to our corner of Madikwe and all the guides have really enjoyed their presence. I've been racking my brain the last month for a suitable name for these adorable little fluff balls and finally I found it. Based on their father's reputation of being a cunning hunter and his ability to take down large game like giraffe and buffalo I decided to name them Batsumi, meaning hunters. The last sighting we had of the cubs was the afternoon of the 18th, we watched the cubs suckle and play just a few paces from our vehicle.
Dylan was able to take the above beautiful shot of the cubs in action, well done buddy!
More news from the Tau team coming soon. Go to the Tau Rangers Facebook page for more updates.